Locking in short positions in euros before the ECB meeting
The data released in the first half of the day had a temporary pressure on the European currency, which, after the daily lows, began to recover gradually against the background of profit taking.
Most likely, big investors will hurry to lock in some of the short positions in euros before an important meeting of the European Central Bank, which will be held this Thursday.
On Tuesday, pressure on the euro might come from weak data on sentiment in the business circles of France, which in April of this year has deteriorated. This happened because manufacturers changed their outlook on their future prospects.
According to the report of the statistics agency, the business climate index in April 2018 dropped to 109 points from 110 points in March. Economists had expected the index to remain at 110 points.
The index of sentiment in business circles in Germany also showed a decline due to a fall in expectations of companies in the manufacturing sector. According to the Ifo Institute, the business climate index fell in April to 102.1 points from 103.3 points in March. Economists predicted a value of 102.6 points.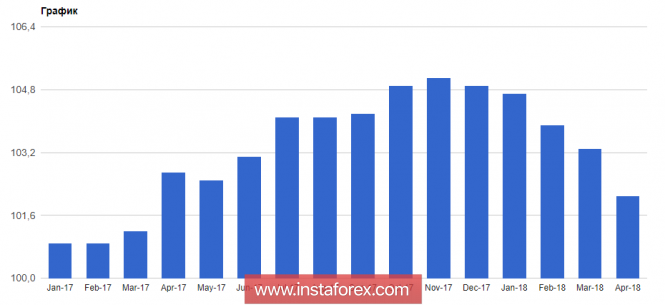 On Tuesday, the European Central Bank's report on lending volumes for the first quarter of this year was published, in which banks noted an increase in demand for loans.
This happened because the euro zone banks significantly softened the lending standards in the 1st quarter. Particularly since it concerns the standards of lending for the purchase of housing, as well as the standards of unsecured consumer lending. The report indicates that banks expect further easing of lending standards and in the second quarter of this year.
As for the technical picture of the EURUSD pair, attempts by the bears to squeeze the euro below the day's low were futile. Most likely, the movement for the day will fall under the bullish scenario, which I discussed in more detail in the previous review. A breakthrough and going beyond the level of 1.2215 will lead to further upward correction in the trading instrument with the update of areas 1.2245 and 1.2270.
The Australian dollar managed to recover its position against the US dollar after a major fall in the first half of the day, which happened right after the publication of data on the slower rate of inflation in Australia.
According to the report, Australia's consumer price index in the 1st quarter of 2018 increased by 0.4% compared to the previous quarter and by 1.9% compared to the same period of the previous year. Economists had expected growth of 0.5% and 2.0%, respectively.
Weaker inflation growth rates may not allow the Reserve Bank of Australia to increase its interest rates in the future.
Analysis are provided by

Insta

Forex.