US stock markets opened 0.5-1% lower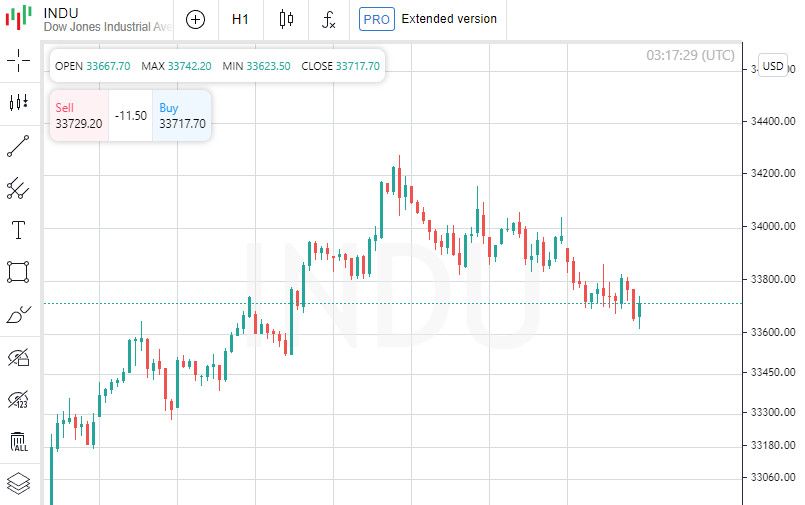 In the absence of important statistics, investors are looking at quarterly reports and other corporate news, as well as statements from Fed officials.
The value of the Dow Jones Industrial Average by 16:54 GMT+3 fell by 0.71% - to 33758.39 points. Among the leaders of the decline in the index are the shares of Boeing Co., Walt Disney Co. and Salesforce Inc., depreciating more than 2%. Merck & Co. papers are the growth leader, rising in price by 1%.
Standard & Poor's 500 has fallen 1.03% since the market opened to 4239.44 points. The Nasdaq Composite fell 1.58% to 12,760.13 points.
Shares of Deere & Co. fell by 2.9% after the world's largest manufacturer of agricultural machinery and equipment reported a net profit growth in the 3rd financial quarter, weaker than market expectations and worsened its full-year forecast.
Quotes from US sportswear and footwear retailer Foot Locker Inc. soared by 22%. The company published a strong statement for the past financial quarter and announced the resignation of the chief executive officer.
The market value of General Motors Co. rises 2.1% on news that the company will resume paying quarterly dividends, suspended in April 2020 due to uncertainty caused by the COVID-19 pandemic.
Bed Bath & Beyond plunged 42% after reports that prominent billionaire investor Ryan Cohen sold his entire stake in the retailer for a profit of more than $58 million.
Capitalization of Home Depot Inc. declined 0.6% despite the fact that the board of directors of the home improvement chain has approved the launch of a $15 billion share buyback program.
The head of the Federal Reserve Bank of St. Louis, James Ballard, said on Thursday that he could support another rate hike by 75 basis points at the September meeting of the US Central Bank. At the same time, he added that, in his opinion, the economy has not yet overcome the peak of inflation.
Meanwhile, San Francisco Fed colleague Mary Daly said that to curb inflation, the rate needs to be raised to just above 3% by the end of the year, but opposed an aggressive tightening next year.
The market is still waiting for a 50 basis points rate in September, however, there are growing fears that the rate will be raised by 75 basis points.
News are provided by


Insta

Forex.
https://ifxpr.com/3PEfdDJ