Gold Prices Steady, Buoyed by Iran Tensions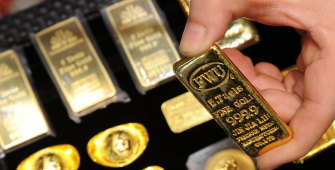 Gold prices steadied on Thursday as the dollar remained near its 2018 high on strong U.S. bond yields, with investors also keeping an eye out for any further impact from U.S. President Donald Trump's decision to withdraw from the nuclear deal with Iran.
Spot gold edged up 0.1 percent to $1,313.94 per ounce.
U.S. gold futures for June delivery gained 0.1 percent at $1,314.10 per ounce.
Dismayed European allies sought on Wednesday to salvage the deal with Iran after Trump ordered sanctions be re-imposed on Tehran.
The dollar held firm on Thursday after the 10-year U.S. bond yield rose back to the psychologically important 3 percent mark and investors looked to U.S. consumer price (CPI) data due later to show a acceleration in inflation.
The U.S. CPI data will also be scoured for outlook on the Federal Reserve's interest rate hike path after softer-than-expected data earlier this month did little to reduce expectations of a June interest rate hike.
Holdings of SPDR Gold Trust, the world's largest gold-backed exchange-traded fund, dropped 0.14 percent to 862.95 tonnes on Wednesday.
Among other precious metals, silver climbed 0.1 percent higher to $16.50 an ounce, after notching a two-week peak at $16.62 in the previous session.
Platinum added 0.3 percent at $912.50 an ounce while palladium was up 0.1 percent at $976.30.