Correction potential in the euro can be restrained
The upward correction in the European currency continued on Friday amid a lack of good fundamental statistics on the US economy, as well as rather restrained statements by the representatives of the Federal Reserve, in particular James Bullard, who stated that it was necessary to "slow down" with the increase in rates.
According to the University of Michigan, consumer sentiment in the US in May remained unchanged. Despite the fact that the index is preliminary, the lack of growth in consumer confidence could negatively affect the economy in the second quarter of this year.
Thus, the leading index of consumer sentiment at the University of Michigan in May this year was 98.8 points, unchanged from April. Economists had expected the index to be 98.0 points. Let me remind you that in March the mood index rose to 101.4 points, and then began its decline.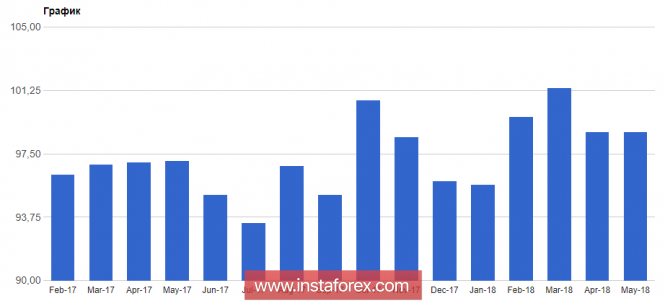 As noted above, the speech of the representative of the Fed Bullard was of a rather interesting nature. Despite the fact that the US economy is in very good condition and there are no problems with inflation growth above 2% the regulator will not, Bullard is concerned that two more rate hikes this year could lead to a coup in the yield curve of government bonds.
In his view, it is wrong to assume that a reversal of the yield curve will not lead to serious changes in the market. In this connection, the official of the Federal Reserve indicated that he will express his disagreement with the further increase of interest rates this year.
His colleague in the role, Loretta Mester, was more optimistic. In her opinion, the Fed may have to make their policies deterrent, as the neutral interest rate increases. However, improving economic prospects will be a strong argument in favor of further tightening of monetary policy, as this will prevent overheating of the economy.
Mester is sure that the prospects for the economy are positive, and the level of full employment has been reached in the labor market.
As for the technical picture of the EURUSD pair, buyers of risky assets have already formed a fairly large upward wave, which led the trading instrument to the resistance level area of 1.1980. Only its breakthrough will serve as a new impetus to the opening of long positions in the expectation of updating the highs of 1.2020 and 1.2070.
If the bulls are not so persistent, and in the resistance area 1.1980 there will be a drop in demand for risky assets, another attempt to return to the market of large sellers with the removal of stop orders of buyers below the support of 1.1930 is not ruled out.
*The market analysis posted here is meant to increase your awareness, but not to give instructions to make a trade.
Analysis are provided by

Insta

Forex.