Trump Cancels Nuclear Summit with North Korean Leader Kim Jong Un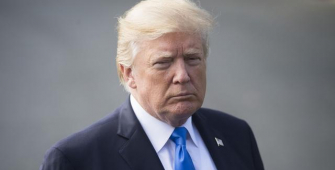 President Donald Trump canceled his historic nuclear summit with Kim Jong Un on Thursday, accusing North Korea of "tremendous anger and open hostility."
The meeting, which would have marked the first face-to-face encounter between a sitting U.S. president and a North Korean leader, was set for June 12 in Singapore. The summit aimed to rid the Korean peninsula of nuclear weapons.
"Sadly, based on the tremendous anger and open hostility displayed in your most recent statement, I feel it is inappropriate, at this time, to have this long-planned meeting," Trump wrote in a letter to Kim, which was released Thursday morning. The president dictated every word of the letter himself, a senior White House official told reporters.
The news came as North Korea made a show of dismantling a nuclear test site, but also on the heels of some sharp words from the North Korean government about America denuclearization demands. Trump's decision also comes more than two weeks after he withdrew the U.S. from the Obama-era Iran nuclear deal, which had lifted sanctions on the Middle Eastern country as long as it limited its nuclear program.
Trump said it was possible a meeting could still take place but warned North Korea against committing "foolish" acts.
The "unexpected" decision, Pyongyang said, was "extremely regrettable".
Kim Kye Gwan, a top official at North Korea's Foreign Ministry, said in comments published Friday by the country's state-run news agency KCNA that Trump's decision runs counter to the global community's wishes for peace on the Korean Peninsula. "We reiterate to the US that we are willing to sit face to face at any time and in any way," said Kim, who has negotiated with US counterparts for years.
Prime News are provided by

Insta

Forex.