U.S. Government Posts $209 Billion Deficit in March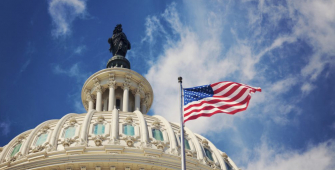 The U.S. government ran a $209 billion budget deficit in March as outlays grew and receipts fell, the Treasury Department said. That compared with a budget deficit of $176 billion in the same month last year, according to Treasury's monthly budget statement.
When accounting for calendar adjustments, the deficit was $165 billion in March compared with an adjusted deficit of $134 billion in the same month the previous year.
The deficit for the fiscal year, which started in October, was $600 billion, compared to a deficit of $527 billion in the same period of fiscal 2017.
Unadjusted receipts last month totaled $211 billion, down three percent from March 2017, while unadjusted outlays increased to $420 billion, which is seven percent higher from the same month the previous year.
The Congressional Budget Office had expected a $207 billion deficit for March. The nonpartisan agency said this March had one less business day than March 2017, and a smaller share of wage income is being withheld this year for taxes.
The CBO recently forecast that the federal deficit will reach $804 billion in fiscal 2018, up from $665 billion in fiscal 2017. It increased its estimate for this year's deficit mostly due to recent legislation that cut taxes and increased spending on the military and domestic programs. It had already expected widening deficits in the coming years as outlays, including spending on programs like Social Security and Medicare, rise faster than revenue.
Prime News are provided by

Insta

Forex.