Forecast for EUR/USD on September 30, 2019
EUR/USD
On Friday, after the euro's attempt to overcome support at 1.0926, the price chose to return a little higher in order to try to do it with fresh energy in the new week. This morning a little strength was given by economic data on the Asia-Pacific; retail sales for August show growth of 2.0% y/y against the forecast of 0.7% y/y, business activity in the manufacturing sector of China (Manufacturing PMI) for September increased from 49.5 to 49.8. In the afternoon, employment indicators in the euro area will come out, forecasts are neutral, so investors are interested in how much the data deviate from expectations.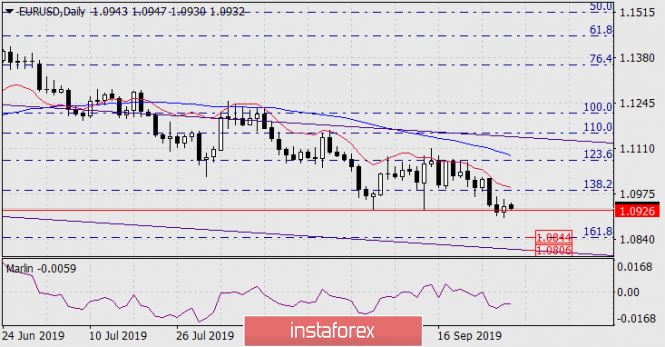 On a four-hour chart, the price is near the signal level of 1.0926, consolidating below it will launch the main decline scenario. We are waiting for the price in the target range of 1.0806/44, formed by the line of the price channel and the Fibonacci level of 161.8%. Strong economic indicators in the euro area and weak in the US (if the Chicago PMI is weaker than the forecast of 50.0) may pull up the euro to the MACD line, to around 1.1000.
*The market analysis posted here is meant to increase your awareness, but not to give instructions to make a trade.