Forecast for USD / JPY pair on August 7, 2019
USD / JPY pair
The situation on the yen remains difficult. Thanks to yesterday's growth of the American stock market at S&P 500 by 1.30%, the pair was able to close the day with an increase of 52 points. On the daily chart, the price line was the balance line. Today, the Asian stock market is still falling in the Asian session, except for the Australian S&P/ASX200 index, adding 0.55%. Meanwhile, the Japanese Nikkei225 is now the leader of the fall with 0.83%. The yen "hid in a corner" almost literally as it is held in a triangle formed by the lines of falling and rising price channels. The Support is the line of 105.75 and the resistance is at 106.54. Fixation under the green bottom line will allow the price to decline to 105.00, which consolidates above the upper one that opens up the prospect of growth to 108.62.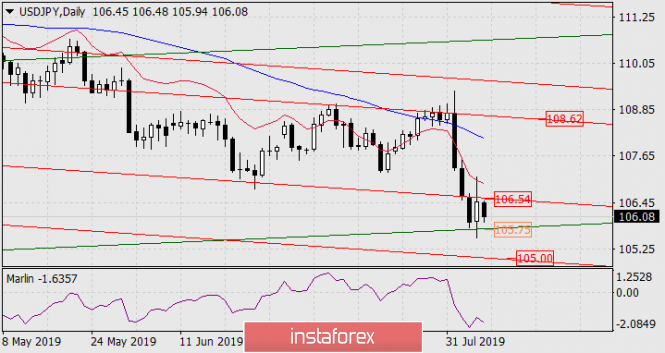 On the four-hour chart, the signal line of the Marlin oscillator should go into the zone of positive numbers for the first sign of growth to appear. Visually, this will happen just with the release of prices above 106.54. The first growth target will be the MACD line at 107.42.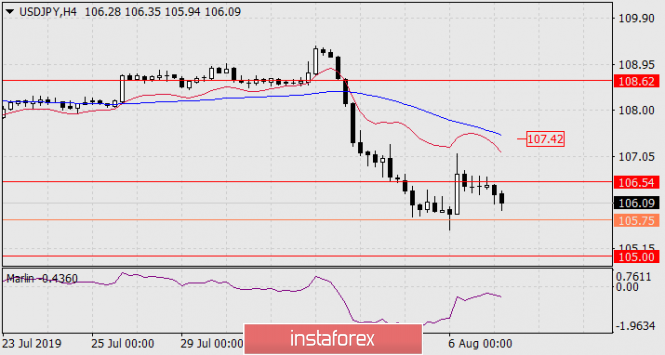 Analysis are provided by

Insta

Forex.