Inflation did not please investors
The European currency managed to strengthen its positions against the US dollar in the first half of the day, but riskier assets did not receive more powerful support from the large players, as the inflation data in the euro zone fully coincided with the forecasts of economists.
The situation in the German labor market is excellent. According to the data, the number of applications for unemployment benefits decreased, and unemployment reached a record low level.
Thus, the number of unemployed in January this year fell by 25,000 compared to December 2017. Economists had expected a reduction of 16,000. In January, the Federal Labor Agency of Germany registered 736,000 vacancies, which is 89,000 more than in January 2017.
The unemployment rate in Germany fell to 5.4%.
Not surprisingly, after such data, and based on past reports, the German Ministry of Economy raised the forecast for GDP growth in 2018 to 2.4% from 1.9% after growing by 2.2% in 2017. It is expected that such a strong growth will be due to good external and internal demand, as well as good labor market conditions.
The inflation data did not cause any serious changes in the market, as investors expected more serious changes in the dynamics.
According to the report, in January this year, compared with the same period of the past, the consumer price index rose by 1.3%, which fully coincided with the forecasts of economists. As you can see, the current level is far from the level set by the European Central Bank, which is slightly below 2%. Core inflation rose to 1% from 0.9%.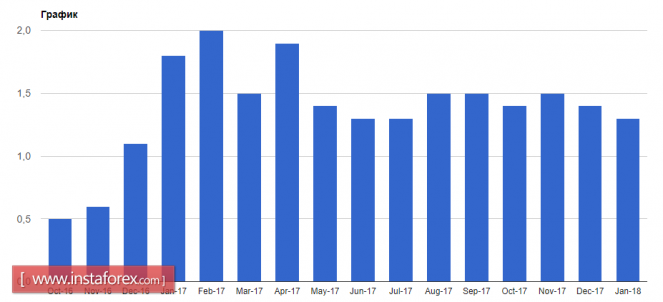 As for the euro-zone labor market, according to the statistics agency's report, the unemployment rate in the eurozone in December 2017 remained unchanged at 8.7% against 8.7% in November. Economists also forecast the current level of unemployment.
Data from ADP did not strongly support the US dollar, although they were much higher than economists' forecasts, which indicates the good position of the US labor market.
According to the report, the number of jobs in the private sector in the US increased by 234,000 in January this year, while economists forecast an increase of 193,000. The ADP noted that there was a strong hiring of medium and large companies.
A serious breakthrough of the level of 1.2450 did not happen. Most likely, traders took a wait-and-see attitude before the Fed decision on interest rates, and the publication of the accompanying statement. Only a real breakthrough of the range 1.2445-1.2455 will lead to continued growth in risk assets with an update of 1.2500 and a new high at 1.2560.
Analysis are provided by

Insta

Forex.