Euro and pound win back their positions against the US dollar
Good data for the euro area and the UK in the first half of the day led to a slight strengthening of the European currency and the British pound after yesterday's decline, which was noticed after the publication of the Fed's protocols.
According to the IHS Markit report, the composite PMI of the euro zone's supply managers rose to 58.1 points in December from 58.0 points. This once again confirms the fact that economic activity in the eurozone at the end of 2017 remained at a fairly strong level. This allows you to count on excellent indicators for GDP growth. Also, it is most likely that in early 2018, the current growth rate of activity will continue due to the flow of new orders.
As for the technical picture of the EURUSD pair in the short term, the exit beyond the level of 1.2035, which I recommended to pay attention to in the morning review, led to the resumption of purchases of the European currency. The next target is a break above the monthly highs, which will lead to the renewal of new resistance levels of 1.2125 and 1.2170.
The British pound strengthened its position against the US dollar against the backdrop of good data on the service sector, which accounts for a significant portion of the UK GDP.
According to IHS Markit's report, PMI's supply managers index for the UK services sector increased to 54.2 points in December 2017 against 53.8 points in November. Economists had expected the index in December to be at 54.0 points. The IHS Markit report noted that business growth accelerated at once in all regions of the UK.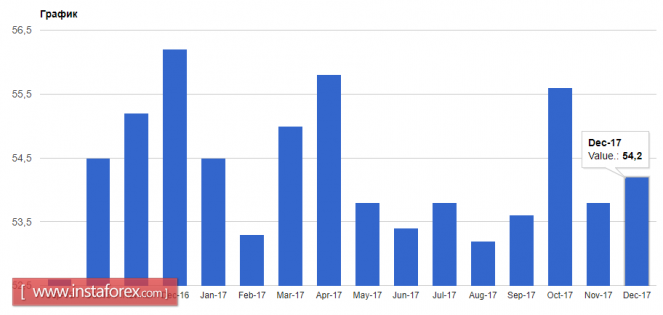 Today, the number of approved mortgage loans in the UK was published for November which increased compared to October. Despite this, growth is gradually slowing down, indicating a decrease in activity in the housing market.
So, according to the Bank of England, the number of approved mortgage loans in the UK in November 2017 was at 65 140 against 64 890 in October. Meanwhile, the average for the last 6 months was at 66 562, indicating a likely decrease in activity. According to the Nationwide Building Society, housing prices in the UK in December last year rose by 2.6% compared with the same period in 2016.
Unsecured consumer lending in the UK also began to gradually slow down.
According to the same Bank of England, unsecured consumer lending in November 2017 grew by only 1.4 billion pounds, while economists expected a 1.6 billion pounds increase in lending. Compared to November 2016, lending grew by 9.1%.
Analysis are provided by

Insta

Forex.