Forecast for EUR/USD on July 31, 2020
EUR/USD
US President Donald Trump threw a bit of confusion into the markets by proposing to postpone the presidential vote from November 3 to a later date on the grounds that he believes too many voters have started voting by mail. Later, Trump abandoned the idea of postponing the elections, but the markets worked out the "joke": S&P 500 -0.38%, euro +56 points.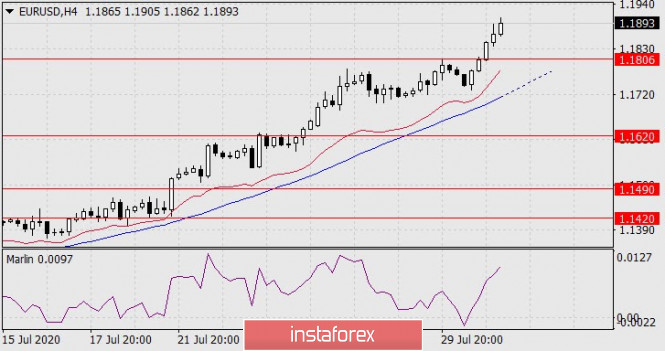 Yesterday's growth has seriously changed the technical picture of the euro. First of all, the price went beyond the upper border of the global price channel, built on the highs of July 2008 and May 2014. Now this channel does not exist; instead, after creating a new peak, a new one will form.
Yesterday's trading volume was not lower than the volumes of the last four days. This confirms the strength of the given momentum, now the growth target is the 1.2040/55 range. The reference point for the goal is the low of July 2017. The chances of forming a divergence between the price and the Marlin oscillator are already small, although this option is possible. This creates its own risks for opening new longs for the pair.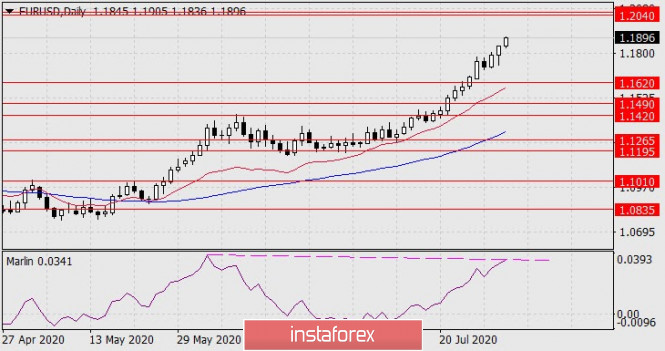 The situation is completely upward on the H4 chart: the Marlin oscillator is moving up, the price is above the indicator lines. Growth in the target range of 1.2040/55 is possible even after a pullback. Safe for growth, the price may pull back to the 1.1806 level - to the July 29 high. Consolidating below the level, but even more reliable, consolidating under the MACD line, will mean the end of local growth.
Analysis are provided by

Insta

Forex.